Technology Revolutionizes Healthcare
The healthcare industry has been constantly facing such challenges as inefficient treatment practices, limited access to care, skyrocketing hospital costs, frequent data breaches. Digital healthcare transformation can be a driving force behind breakthroughs in safe and advanced data collection, research, and more progressive treatment predictions. From wearables and 5G technologies to artificial intelligence and blockchain, emerging technologies transform the way patients are treated and how data is protected.
Statista predicts the global digital health market size to grow to nearly $640 billion by 2026.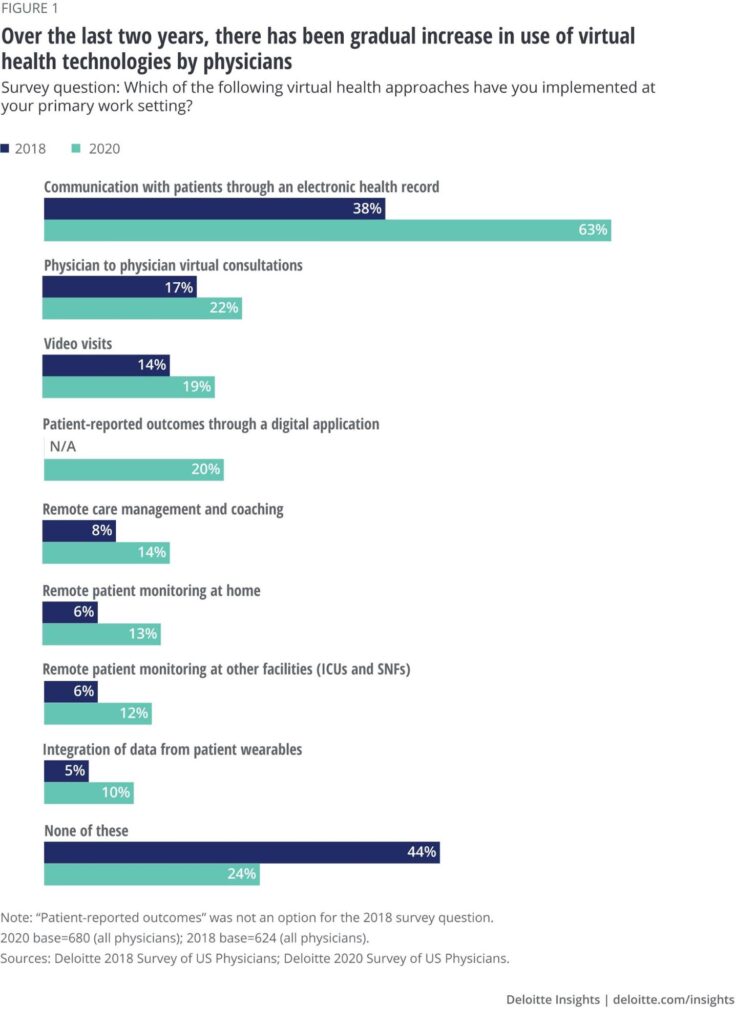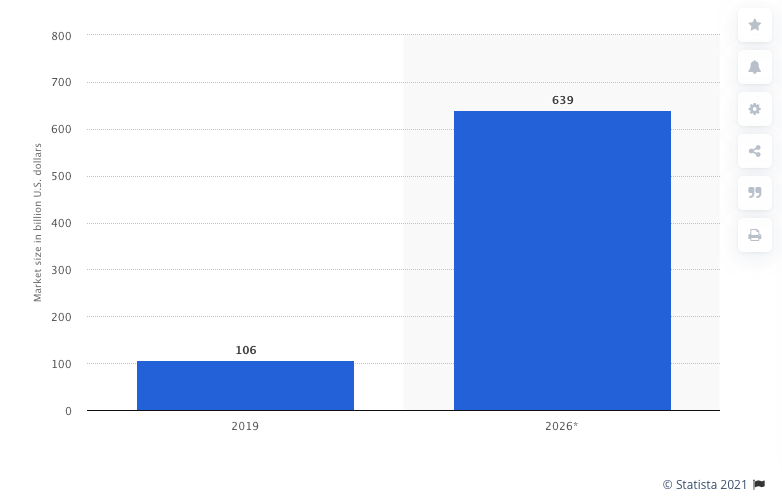 How Technology Transforms Healthcare:
The healthcare industry can leverage technology-driven solutions to gain significant advantages in how data is stored, how patients are treated, and how medical care is provided. For example, cloud-based electronic health records (EHR) simplify data storage and access via a centralized system allowing to drastically cut costs and ensure the ability to easily manage and access the database. Diabetics, for instance, can apply IoT-powered mobile medical devices to permanently monitor glucose levels in their blood to timely prevent hyperglycemia. Also, Virtual Reality solutions have been already applied by medical institutions to ease symptoms of depression and anxiety in patients with mental illnesses. And it's only some of the examples.
Before outlining the core benefits it is worth mentioning that big data in the healthcare industry requires approaches to efficiently capture, store, analyze, and manage data to make comprehensive predictions about possible diseases and epidemics, identify risk factors, enhance clinical researches and trials, prevent deaths, etc. With digital technology and cloud data storage, the healthcare industry is able to facilitate efficient health information exchange and get cost-effective solutions without the need for additional expenses on hardware. Technology-driven data collection is conducted in a much more fast manner and from a much more diverse population than ever before.
Here are the main drivers of technological shifts in the healthcare sector:
Enhanced and more accessible treatment
Facilitation of chronic disease prevention and management
Reduction of care costs
Remote patients' monitoring and control
Improved access to medical data
Improved communication flows
Better diagnostic support
Predictive analytics
Cost reduction
IoT-powered Virtual Healthcare
In order to improve the efficiency of communication between patients and healthcare providers and enable accessibility and convenience to healthcare services remotely, healthcare organizations are empowered with the technology presented in the form of electronic communication (digital communication), aka telehealth or telemedicine.
Telehealth allows not only streamlining the patient's experience and saving time but also cutting costs, improving health outcomes, and taking preventative care to the next level.
According to a Deloitte survey conducted among US physicians in terms of virtual health perspectives, we can see that most physicians were not intending to use most of the virtual health solutions before COVID-19. However, in March-May 2020, there was an unprecedented shift and gradual increase in the use of virtual health.